SPECIAL
ISSUE
OPEN CALL
NEW DEADLINE IS MARCH 2018
We are pleased to announce that our special issue of the Journal of Archaeological and Anthropological Sciences entitled "Iberian Paleodiet – Exploring links between  diet, culture, disease and environment using osteoarchaeological evidence" is now available. Click here to see the editorial
The Iberian Peninsula has a complex cultural background, wide climatic/environmental transitions and biogeographical differences in resources. Over time within Iberia prehistoric funerary rites and cultural practice were diverse, Iberia  played an important role during the Roman Empire; it was the intersection between the main European religious cultures (Islam,  Judaism and Christianity) during the Medieval period; and Spain and Portugal were a key point of contact for  the New World. The underlying geology and climate results in a wide variety of soil types resulting in different preservation conditions and diagenesis of human remains. All these issues make the Iberian Peninsula an ideal framework for exploring human culture, diet and  environment in the past.
This Special Issue showcase current bioarchaeological research into diet on Iberian skeletal collections using case studies of European and global significance. It includes 19 original research articles !!!! from 8,000 BC to AD 1960. If you are interested on our special issue please email (olalla.lopez@usc.es and michelle.alexander@york.ac.uk).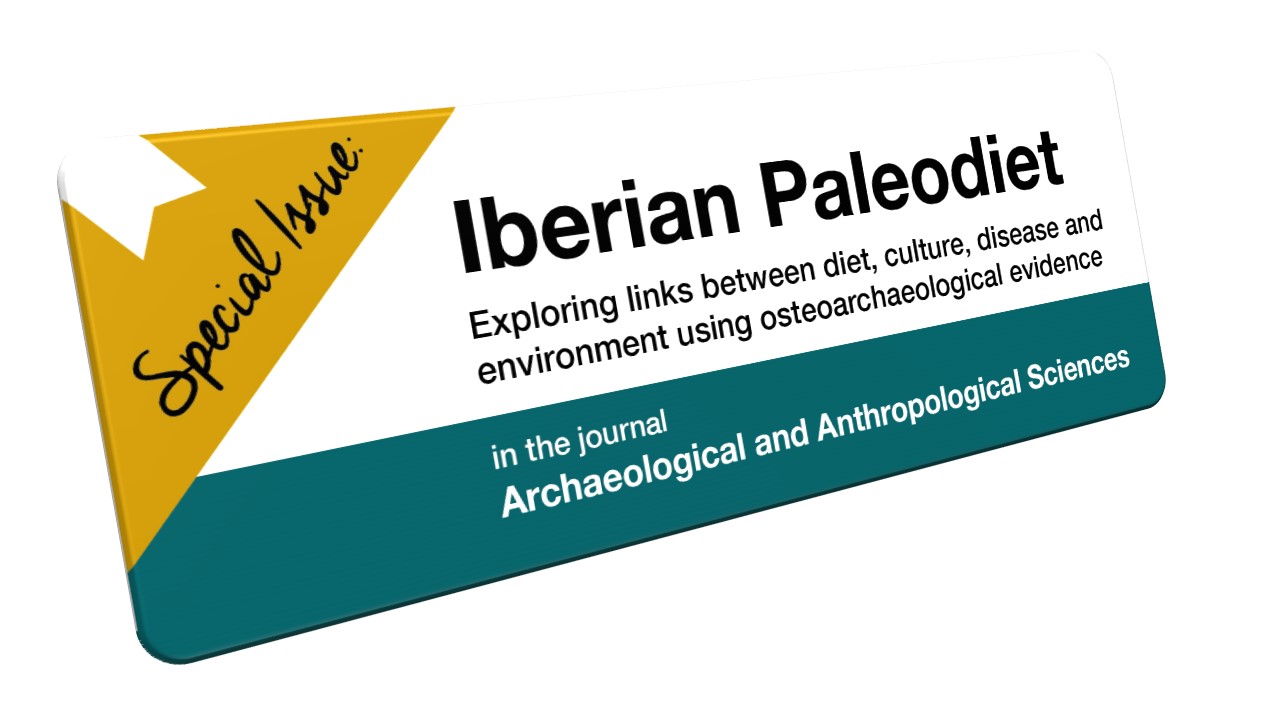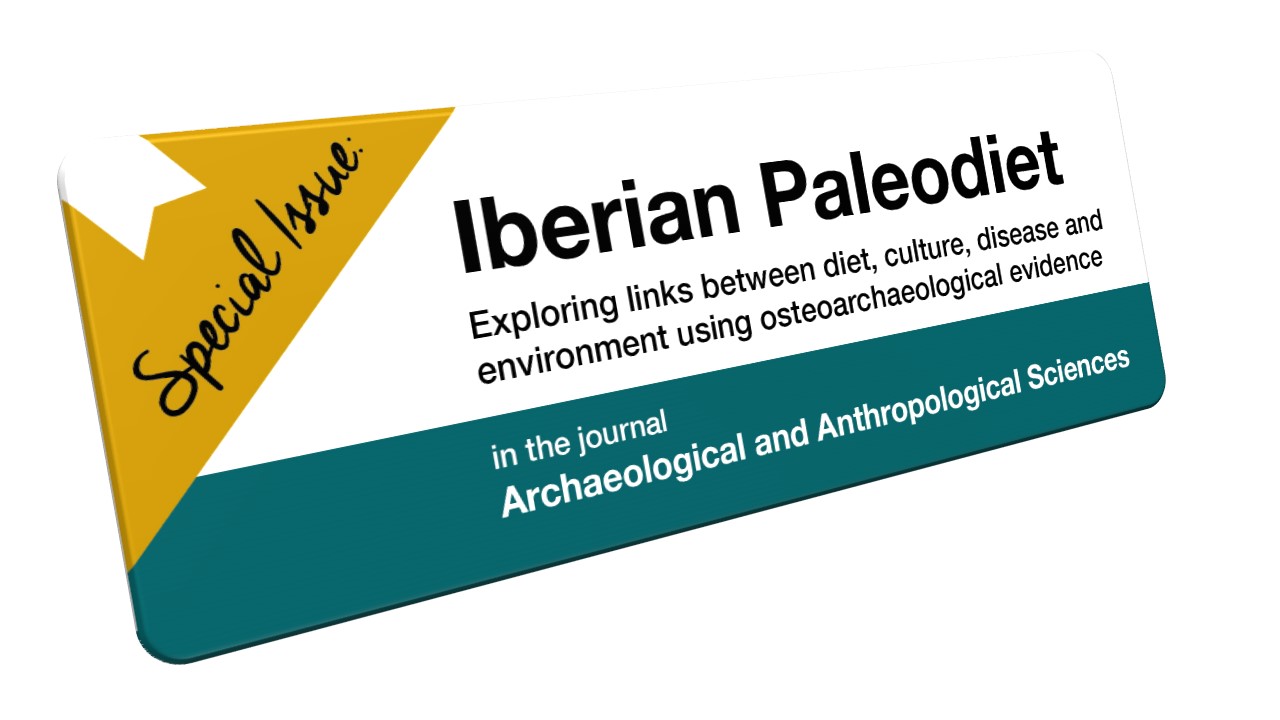 IBERIAN PALEODIET
It is made by  breakthrough contributions  which, using skeletal collections from the Iberian Peninsula,  help us to understand the complex adaptation of human beings to their changeable cultural and natural environment.
PREHISTORY
Cubas M, et al. 2019. Long-term dietary change in Atlantic and Mediterranean Iberia with the introduction of agriculture: a stable isotope perspective. Archaeol Anthropol Sci 11(8):3825-3836. Article 1
Jones JR, et al. 2019. Investigating prehistoric diet and lifeways of early farmers in central northern Spain (3000–1500 CAL BC) using stable isotope techniques. Archaeol Anthropol Sci 11(8):3979-3994. Article_2
Villalba-Mouco V, et al. 2019. Stable isotope ratio analysis of bone collagen as indicator of different dietary habits and environmental conditions in northeastern Iberia during the 4th and 3rd millennium cal B.C. Archaeol Anthropol Sci 11(8):3931-3947.  Article_3
Díaz-Zorita Bonilla et al. 2019. Multi-isotopic diet analysis of south-eastern Iberian megalithic populations: the cemeteries of El Barranquete and Panoría. Archaeol Anthropol Sci 11(8):3681-3698. Article_4
MORE PAPERS ABOUT PREHISTORIC DIET

Sarasketa-Gartzia I, et al. 2019. Anthropic resource exploitation and use of the territory at the onset of social complexity in the Neolithic-Chalcolithic Western Pyrenees: a multi-isotope approach. Archaeol Anthropol Sci 11(8):3665-3680. Article_5
Fernández-Crespo T,et al. 2019. The Bell Beaker multiple burial pit of La Atalayuela (La Rioja, Spain): stable isotope insights into diet, identity and mortuary practices in Chalcolithic Iberia. Archaeol Anthropol Sci 11(8):3733-3749. Article_6
García-González R, et al. 2019. Dietary inferences from dental microwear patterns in Chalcolithic populations from the Iberian Peninsula: the case of El Portalón de Cueva Mayor (Sierra de Atapuerca, Burgos, Spain) and El Alto de la Huesera (Álava, Spain). Archaeol Anthropol Sci 11(8):3811-3823. Article_7
Grandal-d'Anglade A, et al. . 2019. Dogs and foxes in Early-Middle Bronze Age funerary structures in the northeast of the Iberian Peninsula: human control of canid diet at the sites of Can Roqueta (Barcelona) and Minferri (Lleida). Archaeol Anthropol Sci 11(8):3949-3978. Article 8
ROMAN AND EARLY MEDIEVAL DIET
Alaica AK, et al. 2019. Variability along the frontier: stable carbon and nitrogen isotope ratio analysis of human remains from the Late Roman–Early Byzantine cemetery site of Joan Planells, Ibiza, Spain. Archaeol Anthropol Sci 11(8):3783-3796. Article_9
Jordana X, et al. 2019. Lost in transition: the dietary shifts from Late Antiquity to the Early Middle Ages in the North Eastern Iberian Peninsula. Archaeol Anthropol Sci 11(8):3751-3763. Article 10
García-Collado MI, et al 2019. Palaeodietary reconstruction as an alternative approach to poorly preserved early medieval human bone assemblages: the case of Boadilla (Toledo, Spain). Archaeol Anthropol Sci 11(8):3765-3782. Article 11
LATE MEDIEVAL CHRISTIAN
López-Costas O, and Müldner G. 2019. Boom and bust at a medieval fishing port: dietary preferences of fishers and artisan families from Pontevedra (Galicia, NW Spain) during the Late Medieval and Early Modern Period. Archaeol Anthropol Sci 11(8):3717-3731. Article 12
Curto A, et al. 2019. Did military orders influence the general population diet? Stable isotope analysis from Medieval Tomar, Portugal. Archaeol Anthropol Sci 11(8):3797-3809. Articulo 13
LATE MEDIEVAL ISLAMIC
Alexander MM, et al. 2019. Economic and socio-cultural consequences of changing political rule on human and faunal diets in medieval Valencia (c. fifth–fifteenth century AD) as evidenced by stable isotopes. Archaeol Anthropol Sci 11(8):3875-3893. Article 14
Dury G, et al. 2019. The Islamic cemetery at 33 Bartomeu Vicent Ramon, Ibiza: investigating diet and mobility through light stable isotopes in bone collagen and tooth enamel. Archaeol Anthropol Sci 11(8):3913-3930. Article 15
Inskip S, et al. 2019. Diet and food strategies in a southern al-Andalusian urban environment during Caliphal period, Écija, Sevilla. Archaeol Anthropol Sci 11(8):3857-3874. Article 16
Toso A, et al. 2019. High status diet and health in Medieval Lisbon: a combined isotopic and osteological analysis of the Islamic population from São Jorge Castle, Portugal. Archaeol Anthropol Sci 11(8):3699-3716. Article 17
POST-MEDIEVAL
MacKinnon AT, et al. 2019. Exploring diet and status in the Medieval and Modern periods of Asturias, Spain, using stable isotopes from bone collagen. Archaeol Anthropol Sci 11(8):3837-3855. Article 18
Sarkic N, et al. 2019. Eating in silence: isotopic approaches to nuns' diet at the convent of Santa Catalina de Siena (Belmonte, Spain) from the sixteenth to the twentieth century. Archaeol Anthropol Sci 11(8):3895-3911. Article 19
IBERIAN PALEODIET
Exploring links between diet, culture, disease and environment using osteoarchaeological evidence
A SPECIAL ISSUE TO TIE PALEODIET RESEARCH AND IBERIA
Questions or feedback ? Contact us. We'll respond ASAP!
E: olalla.lopez@usc.es
E: michelle.alexander@york.ac.uk